By Laura Melrose
As we progress through an age of technology that some have termed the Fourth Industrial Revolution, the topic of robotics and how they can improve our lives is a constant point of interest. The possibilities seem endless, and for people with disabilities, the opportunity for this area of technology to improve access to rights to health and participation in society is undeniable.
Following a panel discussion at UNSW Sydney on the topic of 'Robotics in Disability Care: Opportunity or Threat?', social robotics researcher Dr Eduardo Benitez Sandoval answered some questions on recent projects and future innovations.
Can you tell me about the projects you've worked on, and some of the recent innovations in the disability sector?
Personally, I have been involved in the design and development of a robot to assist in hospitals with lifting patients, which could be operated with multimodal interfaces that don't require physical manipulation. I was also invited by a Mexican research institute called CICESE to assist on a project developing social robots as a therapeutic tool for elderly patients suffering from dementia. Other members of the Creative Robotics Lab are engaged in projects using robots to explore treatments for autism and other cognitive disabilities.
Other innovations include distance sensors and audio alerts on canes and smart glasses connecting to the optic nerve for visually impaired people, exoskeletons for physical disability, and of course recently we have the first developments of social robots used in the disability care sector.
People with disabilities face significant adversity in employment, education, accommodation, and access to public goods and services. What are some of the ways in which robotics could improve the rights of people with disabilities? How far away are these innovations?
We will see a lot of technologies arising and dying in very short periods. Nowadays, technology development is more democratic and we see innovation coming from unexpected sources. Developing long-term solutions for people with disabilities involves a lot of responsibility and requires a multidisciplinary approach and well-designed studies. Indeed, I think the way to go is with people with disabilities helping to design more inclusive technology, rather than technology attempting to improve their lives.
For instance, one idea I proposed to my colleagues is to collect information from people with disabilities in order to develop better social algorithms for the design of social robots. If a robot has a problem, it cannot ask for help in the way that a human can. But how do humans know who to ask, or that a particular individual may be able to help? I think this is an amazing social skill that could be implemented in the design of future social robots. Because technology is not perfect, humans will help robots in the way that humans help other humans.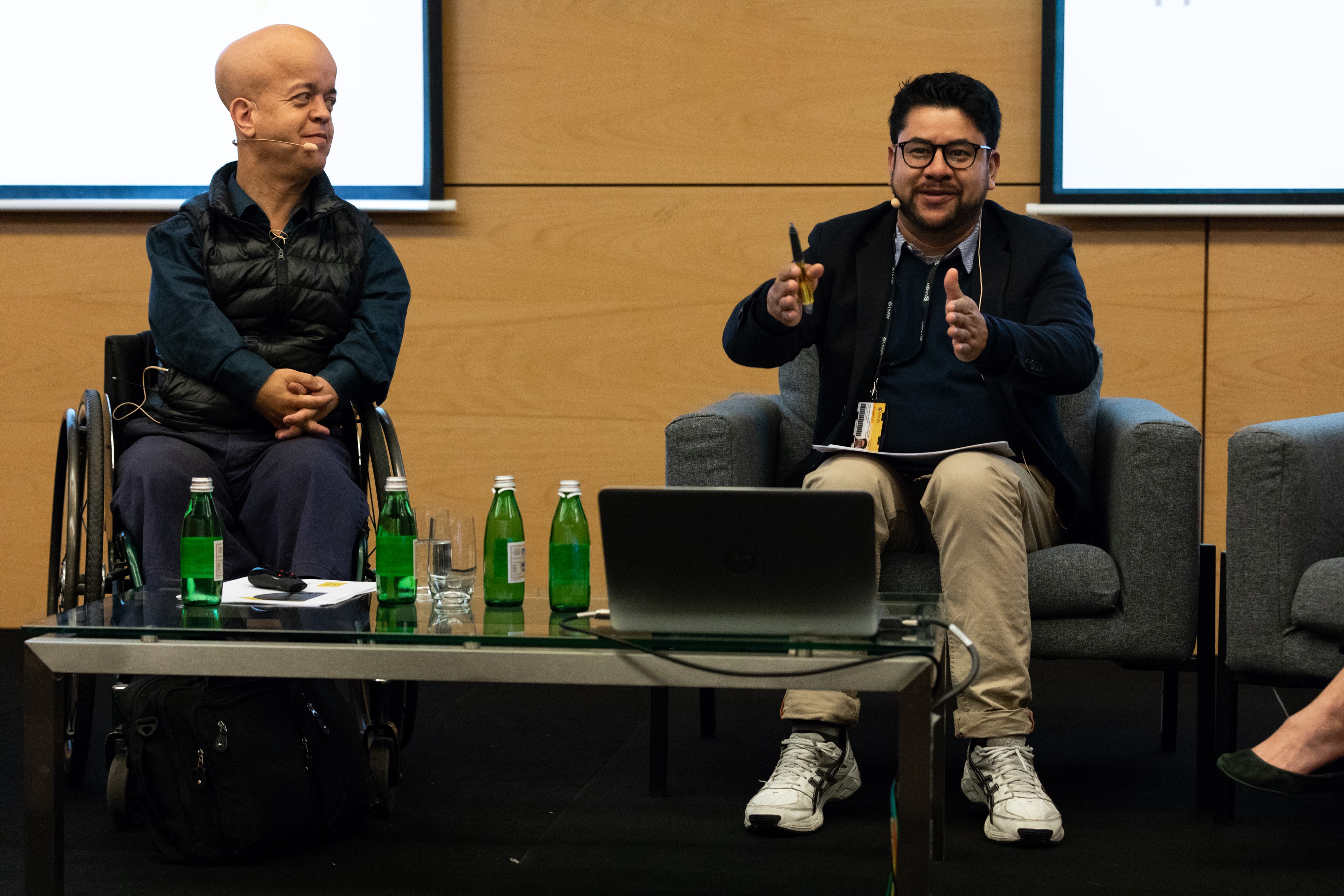 During the talk, you and Professor Tom Shakespeare discussed the humanity and ethics of care versus the practicality of robotics. Where do you think the balance is? Do you think there's a point at which robotics could go too far?
I think we should provide more training in humanities, ethics, morals, philosophy, and arts in STEM areas of specialisation to enrich technological development. Scientists and engineers should think deeply about the long-term social, economic and environmental impacts of their developments. In addition, I think companies and researchers should design and develop new products sustainably. Market pressure is a big issue, however they have a responsibility to provide meaningful innovations and avoid wasting resources in ill-thought-out technologies that don't benefit users in the long term.
I don't think we're at risk of robots going too far. Artificial intelligence is spectacular, but the development of human intelligence, or even the more basic intelligence of an animal, is still decades away. On the other hand, we do see incredible robots able to walk, jump, or emulate human movements - but they have still limited capabilities for the manipulation of their environment. The next challenge is to integrate these technologies and create a robot that is capable of interaction and adapting to new environments - but this will take several decades, and many multidisciplinary professionals.
Fellow panellist Tom Shakespeare, Professor of Disability Research at the University of East Anglia, echoed the enthusiasm about the possibilities of technological innovation in disability care but reminds us emphatically of the importance of human inclusion. Professor Shakespeare said:
While robotics and AI can solve many difficulties for people with disabilities, they do not resolve the fundamental need we all have for human relationships. To date, robots have not replaced human care workers. Robots will not provide warm, mutual, sustaining relationships, give advice or hear secrets. They will not attend funerals. So I think, until humanity changes, sustaining care will require real people, even if certain marginal tasks can be relegated to machines.
Laura Melrose is studying a Bachelor of Laws and International Relations at UNSW Sydney, and was the student editor for the upcoming issue of the Human Rights Defender: Human Rights and Technology. The special edition will be available from 23 November.
Robotics in the Disability Care Sector: Opportunity or Threat can be viewed online here.