Growing a new generation of human rights leaders in Kenya
05 Mar 2018
Dr Babere Kerata Chacha visiting UNSW in 2017. Photo: Diane Macdonald
Laikipia University's small Human Rights Centre has a big dream – to plant human rights knowledge in every one of Kenya's university graduates.
Dr Babere Kerata Chacha, a leading expert on African history, played a key role in introducing human rights as a common core course at Laikipia University in 2013.
This made it available to all first year students, not only those in the School of Humanities and Development Studies, but other faculties as well.
The course is important, he says, because Kenya's new 2010 Constitution introduced a strong Bill of Rights, but without education, it's unlikely the benefits will ever be realised.
"University is the best place to spread these ideas to students and help them be instruments of rights for other people," says Dr Chacha, who visited UNSW Sydney in 2017 as a Visiting Global South Scholar.
Today, 10,000 students have completed the core course, the only one of its kind in Africa.
"There have been a lot of human rights violations in Kenya and this has been a culture that's been embedded in our young people," Dr Chacha says.
"We cannot say the only people who should be able to understand the Constitution are in the Liberal Arts only, or that it should be a choice.
"Everyone must be able to understand the Constitution and Bill of Rights, or it will be left only to the lawyers and there will be no difference between having the old Constitution and the new one."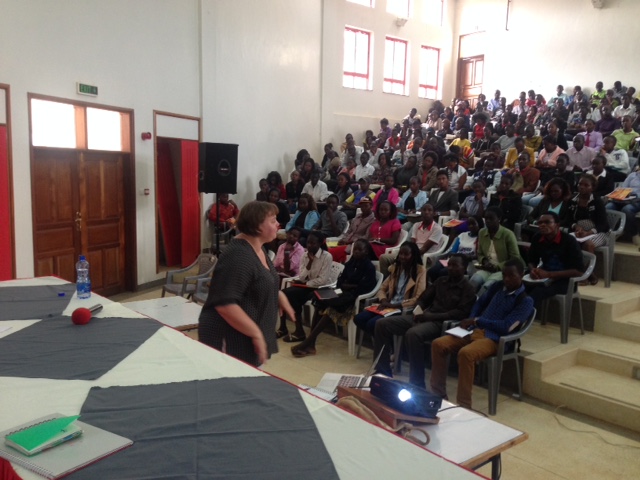 Dr Chacha hopes this course can be implemented nation-wide, but there has been resistance.
"People fear we are going to radicalise and incite students, they say if we teach them fundamentals in human rights, we will witness riots in our university," he says.
"But we are not seeing that happen, in fact when there is something wrong, our students understand that as well as enjoying rights they also have certain responsibilities."
Laikipia University's Centre for Human Rights was established with United Nations support and makes books and resources available, as well as a human rights club where students meet for discussions and weekly "coffee hour".
Students discuss and record human rights realisations and violations from the local dailies and online news, and the report is occasionally handed to a representative of Kenya's Human Rights Commission, who is based at the Centre under an MOU intended to foster collaboration on research and hosting community-based human rights clinics.
The centre also has a MOU with Kenya's police, who have successfully introduced the core course into police training.
In 2017, Kenya was marred by political violence resulting from the August presidential election which was later nullified due to irregularities, only for the opposition to pull out from the repeat second poll.
Dr Chacha fears the instability will continue for years, unless the problem of marginalisation is addressed through a national dialogue, and the national leadership embraces the ideals of the 2010 Constitution.
It is critical then that Kenya's young people are educated in human rights.
"It's our hope that if we continue training the young cadre with literacy on human rights, they will be able to influence others, and we will have a new crop of leaders."